posted Dec. 29th, 2017
A Message from Raytown Fun House
Hello All,
We would like to thank all of our customers for coming in to say goodbye one last time, even through all the long waits. The response has been overwhelming. You will never know how much you have meant to our family.  These last 3 weeks have been such an emotional time for us seeing you all and hearing about all your memories of your time here at the Fun House. We also want to thank those of you that have given us cards and gifts of appreciation.
Unfortunately, tonight will be our last night to be with you.  We have lost staff and have worn out the few amazing kids that have hung in with us until the end. We have also run out of supplies due to all of your overwhelming support, and I cannot stay open if I know I cannot provide you with the service you are entitled to. We want your last experience to be a good one.
Tomorrow December 30 will be the 12th anniversary of my mother Helen Graham's passing and it is only fitting to shut it down on that day.
I want to thank all of mine and my wife's family that have given up their time over the holidays to help us keep the business going. From our children to our grandchildren to my nieces and all of our old employees that have came back to help out during this hectic month. Especially to our neighbors, the Brown family, that provided 3 members to keep us open. We could not have done this without all your help. God Bless you all and have a Happy New Year from the Graham family.
– Gary & Anna Graham
If you would like to contact us with any general questions/comments you can email management@funhousepizza.com.  It may take us a month or so to get back to you but we will do our best to answer any questions.
---
But, remember… only Raytown Fun House is closing.
You can still get the same great pizza with the original Fun House recipes at the Lee's Summit and Blue Springs locations! So, please, keep those Fun House family traditions alive and come visit us at our other fine establishments.
Thank you!
Locations
Find a Fun House location near you for the best pizza in town!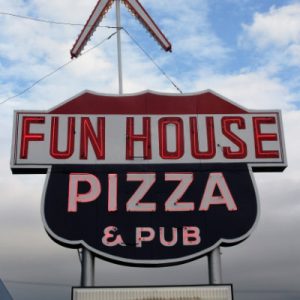 Raytown - The Original
9120 E. 350 Hwy., Raytown, MO
The first and original Fun House and where it all began closed it's doors on Dec. 29th, 2017.